Last week we got busy building a creative shed for our outdoor space. With reclaimed wood, that our landlord kindly allowed us to use, a box of nails, a hammer and a saw, we let our creativity run.
We thought about using thatch or canvas for the roof. However it was nigh on impossible to get either built on time for our Open Day yesterday. So we set for roofing sheets, obviously not the most environmentally friendly material, though it will do for the time being. Then we thought it would be nice for the children to have use of a pretend kitchen, and with a couple of reclaimed pallets we manage to put something together: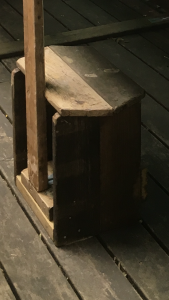 Left overs from our own construction process were put to good use. The stool is part of the shed's structure, and helps give rigidity. It will also allow us to seat in the shed during story telling time. We also incorporated a tree trunk within the structure.
Part of the Montessori philosophy is, of course, getting creative with what we have at hand. Parents and children that visited yesterday loved the space, and said that it felt "warm and homey". Mission accomplished!