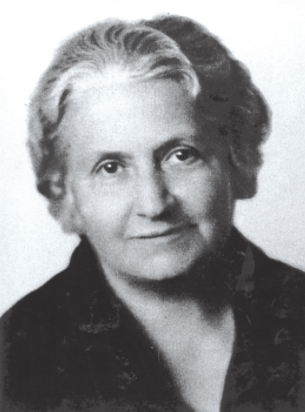 Maria Montessori (1870-1952) was born in Italy. She studied mathematics, physics and natural science. She became so interested in biology that she decided to study medicine in times when women in high education were frowned upon. In 1896 and despite her constant struggles, she became one of the first two women in Italy to earn the degree of Doctor of Medicine.
She became interested in working with children that were left in mental institutions, and through research and cooperative work with other pioneers, she started developing and testing a variety of teaching methods, using didactic materials, which were a complete success. She helped these children to read and write, to the same standards of children that were studying in public schools. She thought that if these children were capable of attaining such level of achievement, what then would be the level that healthy children could achieve if given the proper environment? So it began her years of work and study with normal children, which evolved into the philosophy of education now called The Montessori Method.
Following The Montessori Method the teacher must have faith in the process of nature, and follow the natural path of development. She believed that the teacher's primary function was to observe the child, as a scientist observes an experiment, and direct the child towards the activities and materials which will help him/her to achieve his/her full potential.
An environment specially designed and geared to children's needs allows for heightened levels of development. This is what Montessori meant by the prepared environment. All the materials are housed on low shelves, within easy reach and, in this way, the environment belongs to the child. Most materials have a control of error built in, so that the child can correct him or herself without any unnecessary teacher interference. However, the teacher through careful observation, will be both a willing supporter and a skilful guide. After all we all learn by doing, exploring, and by making mistakes.
Montessori thought that order was an important part of liberty. The concept of freedom in the Montessori school is often misinterpreted. Whilst freedom is of paramount importance in a Montessori school, this freedom is offered within limits. The children slowly learn to recognise right from wrong. The order of progression is from controlled freedom, to concentration, to self-discipline.
The Montessori approach is holistic and aims to fully develop and stimulate the child. Fundamental to the approach is the belief that a child's early years, from birth to six, are the period when they have the greatest capacity to learn.
Source: MCI
Supporting Literature
Project Gutenberg has digitalised some of the books by Maria Montessori, which can either be read online or downloaded as eBook to Kindle, iBooks, etc.:
Within the Advanced Montessori Method:
There are other books, that are integral part of Montessori's education and are required reading to better understand what The Montessori Method is about: