We support all our children to make discoveries for themselves through the natural world. Our garden classroom is prepared daily around the children's current interests. Where possible, we provide materials that are natural and compostable, and we ensure that all of our planning enables all the children to interact with the environment, to develop an understanding of respect and responsibility. This in turn, we hope, will foster sensitivity, appreciation and an environmental awareness for life.
We focus on promoting a caring and calm outdoor space for the children, so they can work both individually and together to care for each other and their environment. Year round growing projects enable children to confidently share information about the natural world, as they develop social skills and engage in activities that promote understanding though first-hand experiences. Bug hugs, books, water-play and creative activities all enable the children to be at home in the outdoor environment. Role play opportunities are also endless in the outdoors, and at Unity we are committed to fostering a love of the natural world.

Maria Montessori said "There must be provision for the child to have contact with nature, to understand and appreciate the order, the harmony and the beauty in nature… so that the child may better understand and participate in the marvellous things which civilisation creates."
Risk
At Unity, healthy lifestyles and healthy eating are encouraged. Children are also supported to use and understand their bodies. A natural part of children's physical movement involves risk. As a child takes their first tentative steps, they weigh up the risk / reward pattern that will be replicated many times in the future. In the outdoor environment, the children are encouraged to explore their environment and push boundaries. This could be having the courage to mount an obstacle course, or use our climbing wall, or simply trying out a new activity for the first time.
At Unity, children will be introduced to climbing, jumping on uneven ground and fire-safety, as we believe that risk taking and understanding risks and benefits can be really positive for children. We also believe that risk-taking can grow confidence and develop a sense of achievement, as children take courage, find out what they are capable of as they climb the rope ladder, or jump from a height. At Unity, we enable children to be independent while also striving to keep them safe from harm.
Forest School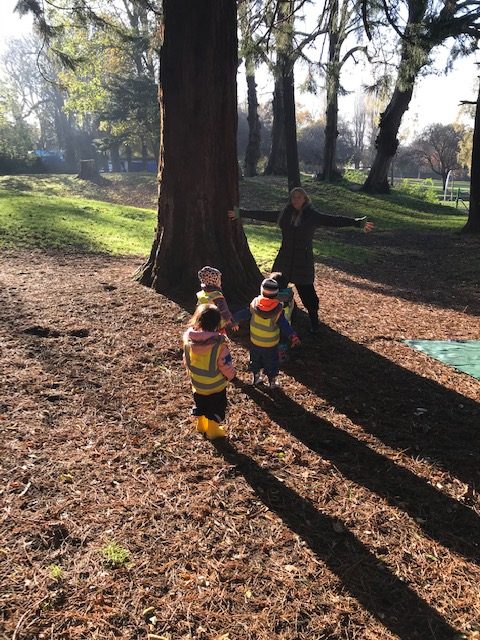 Our weekly trips out and Forest School curriculum also help children encounter new experiences of the natural world. The emphasis on outdoor learning also enables children to use a wide variety of physical skills, as they move with confidence, climbing trees and grassy banks, and use, for instance, a magnifying glass to spot hiding bugs and new flowers. We delight in hearing about their discoveries and different ways to look after the plants and animals that they see. The story telling in forest school can also prompt the children to discover first-hand the 'interconnectedness' of social, ecological and cultural issues. The children are always encouraged to build their vocabulary and understanding as they find out more about their natural environment and conservation too.