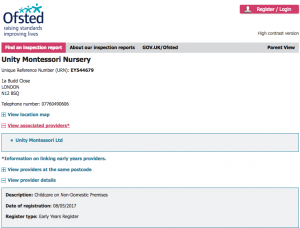 We are very pleased to announce that our London nursery has received OFSTED's Certificate of Registration!
The news came yesterday through the post. Parents can now check our registration details by visiting OFSTED website. This really came at the perfect time, as our Open Day Events start tomorrow!
We would like to take this opportunity to invite families in Woodside Park and surrounding areas of North London to come for a visit, meet our staff and check our lovely new setting.
Our nursery is opening on 4th September 2017!  For enquiries and admissions, visit our Facebook page, or email us at admissions at unitymontessori.com.
Alternatively use our contact page.
Open days dates, registration forms and fees information, as well as pictures of the brand new setting and materials, will be posted soon.
Do get in touch and spread the word! Our team very much look forward to meet and welcome families and children from 2 to 5 years of age to our community.